#MCM Style Inspiration: Aaron Spivey
#MCM Style Inspiration: Aaron Spivey
By: Elizabeth Kabakjian
I must say, photographing this handsome fellow friend was quite the pleasure. Aaron, along with my sister Justine and I had a rather lovely and fun day. I took a bunch of photos and it was difficult narrowing down to a selected number to use for the post! And as you will see..I didn't do a very good job at narrowing down to a small number.
How would you describe your style?
The best way that I could describe my style would be: Simple but effective. When shopping, which I really don't do that much, I am more drawn to pieces that aren't too intricate or busy. Things that are practical, comfortable, and versatile. But when paired and accessorized they come together for a good look.
What are your staple items? Is there something that you couldn't live without?
My staple items would be: a nice fitting pair of pants, for me its between a slim fit and a straight fit. A button up shirt, I have both solid colours and patterns. One thing that I could not live without is actually more of an accessory, but it's a belt. I always am wearing a belt, I feel naked if for some reason I forget one.
When you wake up in the morning, how do you decide what you're going to wear?
When deciding what I am going to wear out, I take a couple things into consideration. First off I don't want to be over or under dressed. Then I think about the people who may be there and what may fit in better with the crowd, or stick out, it just depends on how I feel. Sometimes I'll go for a more classic or vintage look and then there's other times when I'll try to have a more modern feel. But to me the most important thing is comfort and how the ensemble will wear through out my time, while I'm out and about.
Are there any inspirations for your style?
I would have to say that a big inspiration for my style comes from the early 20th century. To me mens fashion was practical, stylish, and distinct. Even when I am going for a more modern feel, there is always still a hint of that older influence. I also have a flair for the Victorian era, that period of time is so fascinating to me. It shows up the most in my facial hair. Big beards were the thing for gentlemen then, not just having it but having it immaculately groomed; which I do. I also handlebar my moustache frequently which is always fun. Even my tattoos are influenced by that era; the gentleman, the eagle, and the bayonet.
What do you feel most comfortable wearing?
I feel most comfortable wearing a good pair of jeans that have been thoroughly broken in and worn about, a t-shirt and a pair of TOMS. If its chilly I'll throw on a hoodie, a thicker pair of socks and a knit cap.
What are some of your favorite brands/stores?
I actually don't believe in spending lots of money for anything other than special wardrobe items. My jeans and pants have come mostly from JC Penny. I get my button ups from the sale rack at American Eagle. I also frequent Marshalls, TJ Maxx, and Target. As long as the item fits well and looks good then that's all that matters. That being said though, you need to keep an eye on the quality of the materials that your clothes are made of and the quality of manufacture. This took me a little while to learn. When possible I always go for genuine leather; my wallet, belt, suspenders, boots, things that get a lot of use need to be of that tougher material. There's a balance between wasting money on super cheap things and then wasting your money on over priced things. But sometimes you'll just have to swing it and spend the extra money to get a product that is actually worth it. So do keep quality of materials and manufacture in mind.
What accessories do you seem to always pair with your outfits? (watches, etc.)
Accessories are always fun, to me they help to make a look. Belts are an easy add on to an ensemble. I have two leather belts that I wear regularly, both are brown and one you can switch the buckle out on it. And I have some belts made from webbing material. I have a couple pair of suspenders I break out occasionally. Hats are good too, but knowing how to wear them properly and also the proper hat for the occasion can be tricky. I used to wear a watch, but they both need to be repaired, so I haven't worn them in a while. Both are mechanical, one is battery operated with a nylon band, and the other is spring operated with a brown leather band.
What advice do you have for other guys that would like to achieve a similar style?
My advice to anyone who would like to emulate my look would be to just go simple. My pieces are easy to find anywhere for a decent price and you don't need a closet full to achieve. The look is classic and will be in style for years to come, which means that you wont have to rotate your wardrobe out every six months. Also learning how clothes should fit properly helps a lot, know your measurements and try to get as close to them as you can, a seamstress can take care of the rest. One of the best pieces of advice I ever got was concerning boots, What I did and what seemed to be a common thing is that guys get a new pair of boots and baby them and they never really get broken in and get that lived in look. If that's you, then stop, they're made to last (assuming they're real leather) so go ahead and walk in them, run in them, you're not going to hurt them. Learning how to give them a good polish every once in a while wouldn't hurt either.
Is there a favorite color that you most usually end up incorporating into your outfit? (i.e. you always end up wearing a lot of black or blue)
I actually wear a lot of blue, and it isn't even on purpose. It hit me one day when I was organizing my shirts by color and most of them fell into the blur section. I guess I am just more drawn to it, but also a great deal of mens clothing is blue. On one of the few shopping trips I took I made it a goals to not get anything blue, but had to give up on that because I was having a difficult time finding things.
If we could go through your family photos and see a photographic documentary of your style phases, which style phase would be the most embarrassing? We've all had them!
My most embarrassing phase would have to have been my scene kid phase. The tight jeans, the Vans, the black band tees, and most of all, the swoopy hair. Looking back at this now would be embarrassing enough, but what makes it worse for me is that this happened in my early twenties, after I had a real job. I was a bit of a late bloomer I suppose. Thankfully though, it didn't last long and I finally found something that fit me better.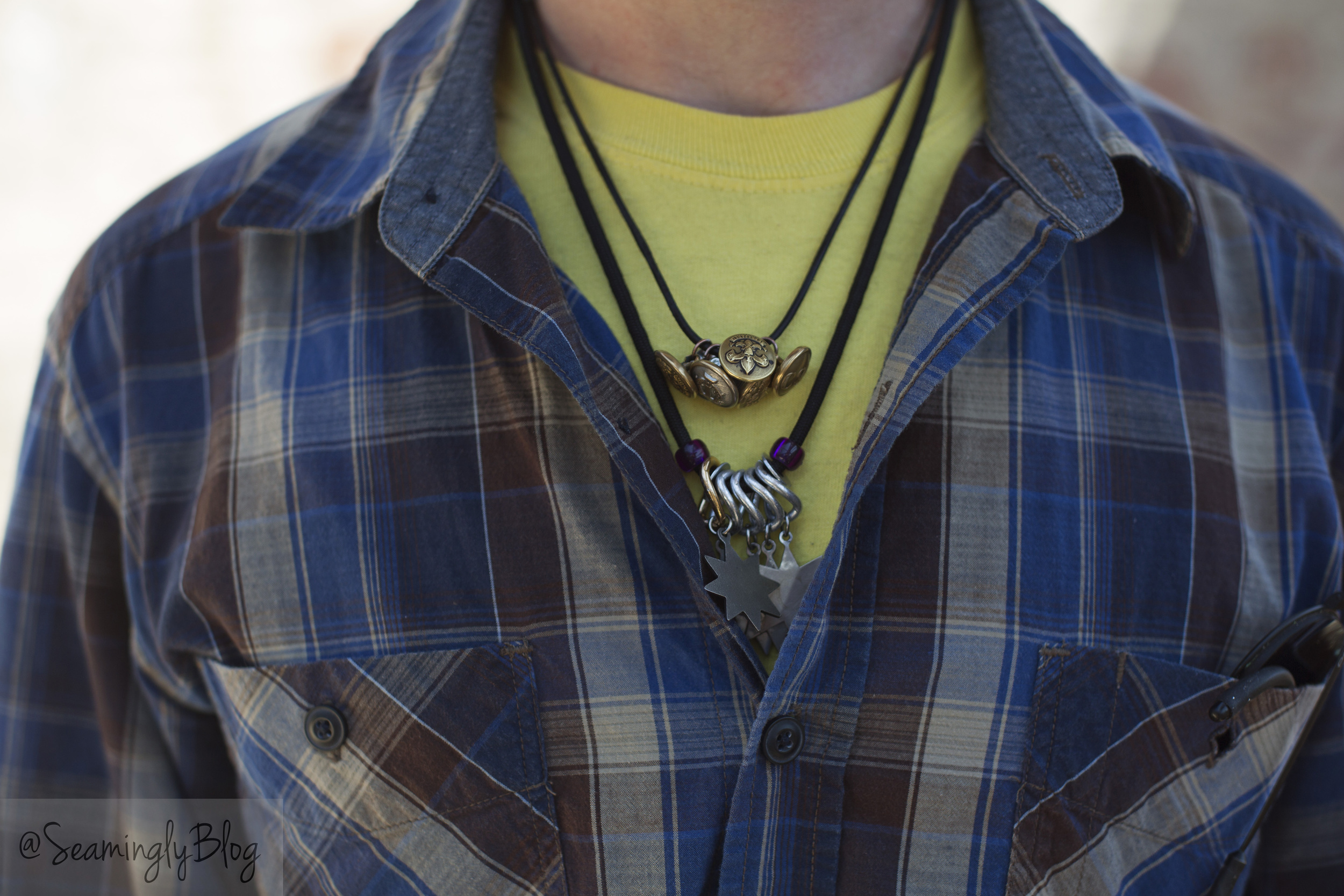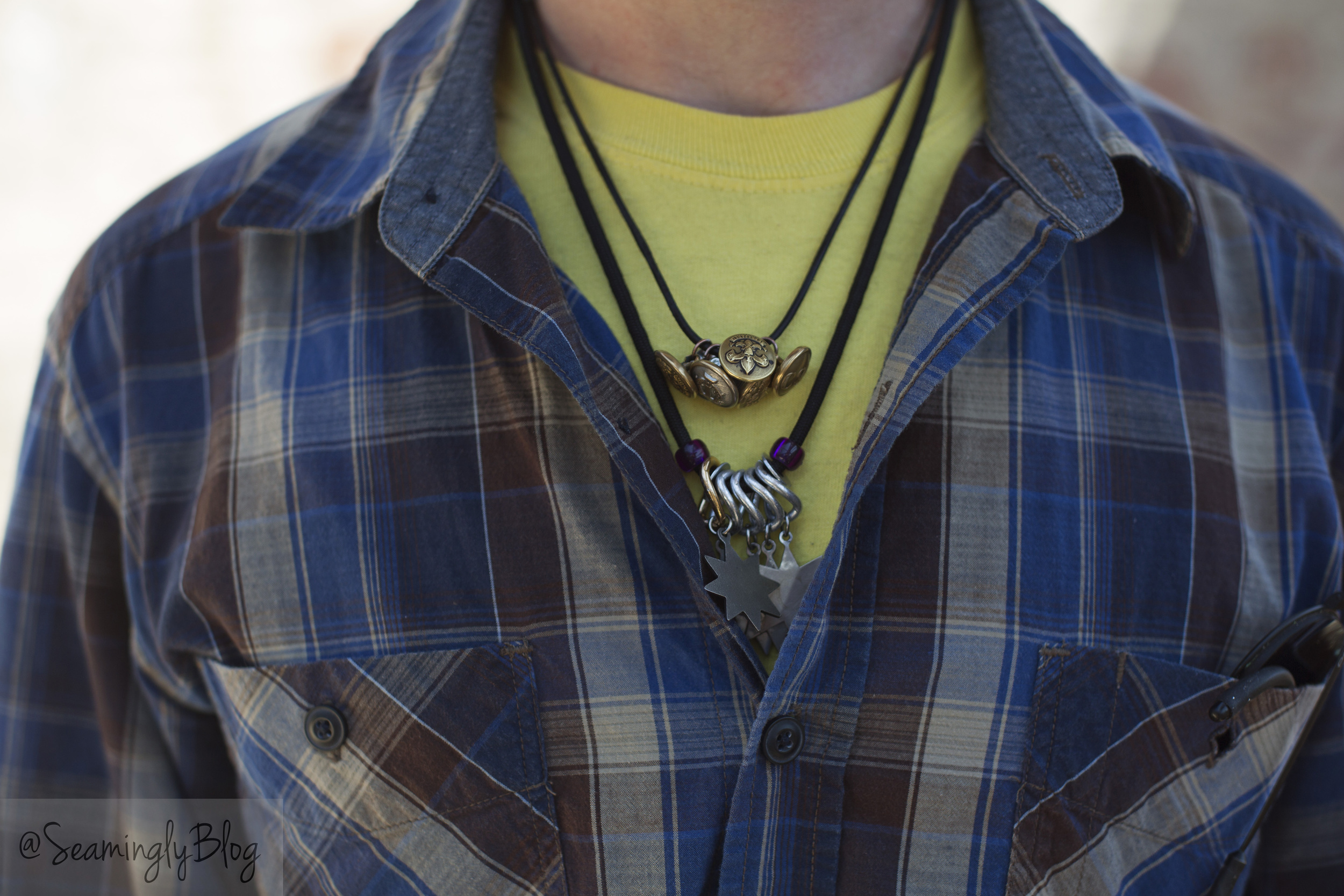 Thank you Aaron Spivey for being a guest on our blog for #MCM!
All images/video were digitally produced by Elizabeth Kabakjian.
Farewell folks