#WCW Style Inspiration: Abbie King
#WCW Style Inspiration: Abbie King
Instagram: @kiinglet
By: Elizabeth Kabakjian
To introduce our lovely lady for this week's #WCW, I had Abbie list 3 random facts about herself to share with us.
THREE RANDOM FACTS:
➔ At the age of 20, I have recently discovered that I have a love for the outdoors. This past school year I had the opportunity through a gap year program to spend several days at a time hiking the Appalachian Trail, kayaking down Edisto River, and mountain biking and rappelling in Moab, Utah. Most of these were a first for me, and I can only hope that they aren't the last as I enjoyed so much being a part of the experiences and the adrenaline it gave!
➔ I'm locally from Greenville. I've loved watching this city grow, especially at the rate it has these past few years. The direction of this city is certainly one that appeals to most of us who are able to recognize that it is the community who plays a huge part in a healthy and positive growing city. Greenville is an exceptional example of this.
➔ I have a lot of growing hobbies/interests: crocheting, ripsticking (do yourself a favor and look it up if you don't know what I'm talking about), sketching, bird watching, biking down the Swamp Rabbit Trail, coffee sipping, and just doing my best to live the life that the good Lord has already laid out for me!
1. When it comes to clothing, how would you describe your personal style?
I would say that my fashion sense derives from a combination of both a minimalist and contemporary/classic tone. For example, keeping it simple is a must for me. This includes avoiding bright colors, obnoxious patterns (I can't even stand polka dots most of the time, but I'm okay with stripes.), frilly and even sometimes lacey things, and lastly technical clothing. If I find myself having to annoyingly adjust a certain top throughout the day, it's rare that you'll ever see me in it again.Keeping articles of clothing that are more clean cut, sharp structured, simple, and those of neutral tone are what really appeals to me. (beige, black, white, super light pastels [mainly blue and pink], black, navy blue, black, nude, olive, grey, and black. Did I say black? Because that's my goto.)
2. What are some of your staple items? Is there anything that you just couldn't live without?
A watch. Always a watch. If I ever forget to throw one on my wrist in the morning (which is rare), you can spot my tan line from wearing one so often from over a mile away. I have a very pale wrist, just one though.
3. When you wake up in the morning, what are some things that go through your head to help you decide on what to throw on for the day?
The biggest influences that affect my outfit are the weather and my plans for the day. Autumn is my favorite season. But for now it's summer, and a common piece for me to wear is sheer tops (because they're so light and perfect for hot days. High waisted shorts have certainly made a comeback these days and are perfect for my tiny waist. Although a lot of the times they are so hard to find, and even more so a pair that fits me. Recently I've learned to check out the little girl's section in certain stores. Because 1) They actually fit me, and 2) they're half the price!
4.Do you have any inspirations for your style? If so, let's hear it! If not, than tell us what shoes you're wearing right now and why. (Feel free to answer both)
My biggest inspiration comes from Brittany Bathgate's personal style. I'm not really one for blogging, but I find myself regularly checking up on her recent posts on her blog: Style & WellBeing, as well as her website (brittanybathgate.co.uk). Bathgate is located in Norfolk, UK whose style is a mix of classic and contemporary. I'm currently wearing my white knockoff Birkenstocks. (Shout out to Target for having good taste and being affordable).
5.What are some items of clothing that you feel the most comfortable wearing?
I commonly find myself in sleeveless tops during the warm weather seasons. My bony structure is highlighted along its edges such as my shoulders and wrists.
6.What are some of your favorite brands/designers/stores?
Often when I'm looking for something specific I try to visit Forever 21. They often have just what I'm looking for and just as conveniently they have my size. Their style is consistent, yet they have a wide variety of items for just about any occasion. I often pop in thrift shops, but try not to buy anything unless I know for sure I'm going to wear it. So many times I've gone thrifting, bought something because it was so cheap, only to end up never really wearing it because the price was more appealing that the actual piece. Old Navy is my goto for pants. In my experience, their denim lasts a long time for me. COS and H&M have pretty things.
7. What accessories do you seem to most often pair with your outfits? (watches, hats, etc.)
Again, watches are important to me. I sometimes wear a simple, long length necklaces, usually their some sort of stone or simply gold.
8.What advice do you have for other gals that would like to achieve a similar style?
Before you buy something, think of what you already have at home that could go with it. Do yourself a favor and try to have something specific in mind before you enter a store! 3 Rules: Keep it simple. Keep it consistent. Keep it classic.
9. Is there a color that you most usually end up incorporating into your outfit? Whether it be intentional or non intentional (i.e. you always end up wearing a lot of black or white).
Yes. black black black black. (see question 1.)
10.If we could go through your family photos and see a photographic documentary of your style phases, which style phase would be the most embarrassing? We've all had them! And trust me.. I have one and I have no idea what was going on in my head during that time!
Oh geez. I specifically remember one time if 4th grade we took a field trip to an apple orchard. I wore denim overalls. I thought they were cool. But my classmates didn't think so and made fun of me that day. But my dad was there and picked me up to do some cool flips over his shoulders and around his back, and then everyone thought me and my dad were really cool. So it ended up being a pretty good day I guess.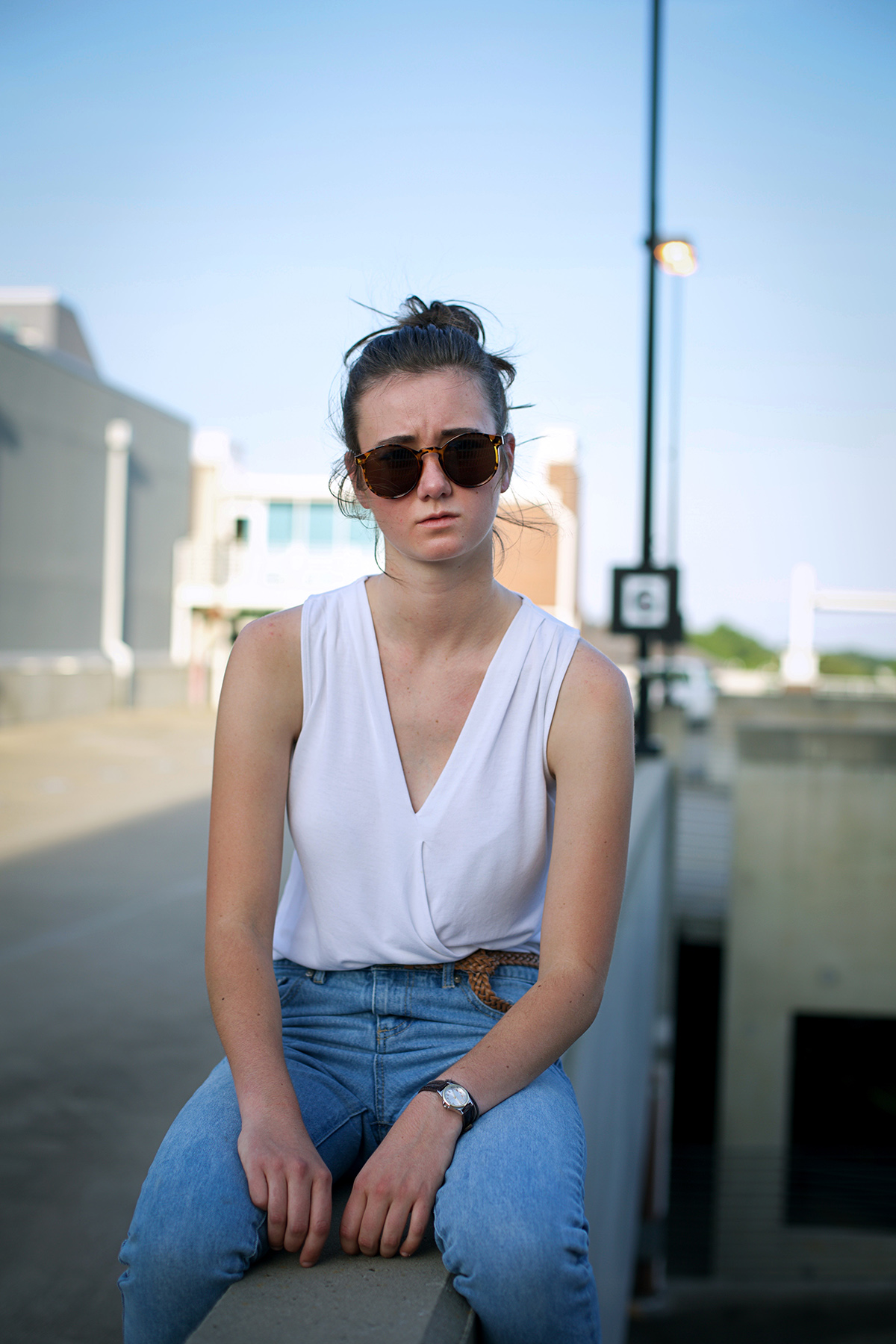 All images digitally photographed by Elizabeth Kabakjian.

Thank you Abbie King for being our #WCW for this week!
Farewell Folks!